10 Dog Friendly Trails In Colorado Springs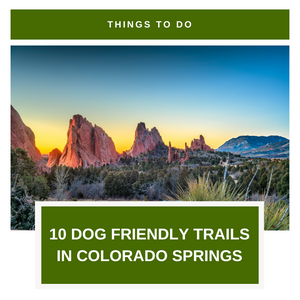 Colorado is home to some breathtaking views, great outdoor adventures, and some awesome dog friendly trails. It's no wonder Colorado tops as one of the most dog friendly states in so many publications. Today we'll take a look at 10 dog friendly trails in Colorado Springs. 
Palmer Park
Palmer Park is home to a great off-leash dedicated trail, along with a large variety of on-leash trails. Located northeast of downtown Springs, it spans several miles with great city views, mountain views, and all the in between. Elevation Outdoors Magazine named it Best Urban Park in its Best of Rockies 2017 list.
Red Rock Canyon Open Space
Sitting adjacent to Manitou Springs, Red Rock Canyon offers scenic views of red rock formations and plenty of hiking trails. It offers the additional perk of scenic lakes for you to enjoy. Enjoy a range of easier to more difficult trails to match your stamina. 
Stratton Open Space
Home to a dog friendly lake about a miles hike up. The main trail is well groomed and a slight incline with gorgeous city views mixed with mountain views along the way. Dogs must be on leash, however, at the lake you can take your dogs off leash to play in the water. There are lots of trails surrounding the main trail you can venture into as well. 
Blodgett Open Space
Beautiful forest trees along the hike up, it does have a slight incline going up with plenty of smaller trails along the way. It offers great city views and viewing areas to stop at. I've got to say the mountain views and city views here are just wonderful.
Garden of The Gods
Although a highly trafficked tourist destination, it's a fun one to visit for some unique hiking. Showcasing its large red rock formations, it's a great spot to see some new views and photo opportunities. 
Austin Bluffs Open Space
Great local hiking spot with pretty scenery and wildlife. Several trail routes to explore and enjoy. It's also got some cool rock formations to look at along the way. Great way to get some energy out.
Inspiration Point
Get a nice workout in exploring Inspiration Point. View its unique tunnel, see zipliners on some of the trails, great views inclusive of seven falls. Its certainly more of a hike than some of the others on the list, but the waterfall and views are well worth it. 
Edmonson Trail Head
If you're looking for a great walking path thats easy, offers nature views, and a river then this is for you. Its a great spot and although it doesn't rank as high as the other options, its certainly one to check out.
Pulpit Rock Space
You can find paved and un-paved trail paths with city and mountain views. Trails are easy to moderate and right in the center of Colorado Springs. Great view of rock formations and offers some shade on some of its trails. 
Columbine Trail
Amazing views and hiking opportunities at the Columbine Trail. Just beyond the Stratton Open Space trail, and offering a full outdoor experience. Great trail options, river, and view points. 
We hope you found some new trails to enjoy on this list, let us know which are your favorites! Remember to grab one of our specialty grade coffee roasts to fuel your adventures! 10% of profits go back to helping homeless dogs!
Leave a comment