Camping on a Budget: Tips and Tricks for Affordable Adventures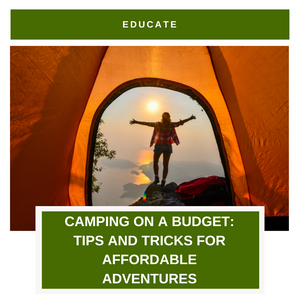 Camping is a fantastic way to connect with nature and enjoy the great outdoors. However, it can also become an expensive endeavor if you're not careful. Luckily, there are plenty of ways to have an amazing camping experience without breaking the bank.
Grizzee Coffee is built on the foundation of encouraging and fueling adventure, and camping just so happens to be one of our favorite activities. So we're here to provide you with some tips and tricks for camping on a budget, making it more accessible for everyone!
1. Choose a budget-friendly destination
Research and find camping spots that offer affordable or even free camping options. National forests, Bureau of Land Management (BLM) areas, and state parks often have low-cost camping options. These places provide beautiful natural settings without the high price tag.
If you have an off road vehicle you have the added benefit of finding some free camp sites that are off the beaten road, or even finding some dispersed campsites.
2. Camp during the off-peak season
Peak camping season usually means higher prices and crowded campgrounds. Consider camping during the off-peak season when rates are lower, and you can enjoy a more peaceful experience. Spring and fall are great times to camp, as the weather is usually pleasant, and campsite fees are often reduced.
3. Share campsites with friends
Splitting the cost of a campsite with friends or family is an excellent way to save money. Many campsites allow multiple tents or RVs on a single site, so you can divide the cost among several people. Not only will you save money, but you'll also have a more enjoyable time with loved ones.
4. Bring your own food and cook at the campsite
Eating out can quickly add up, even when you're camping. Instead of relying on restaurants or fast food, plan your meals and bring your own food. Cooking at the campsite not only saves money but also allows you to enjoy delicious meals in the great outdoors. Don't forget to pack a cooler with perishable items and bring non-perishable foods for convenience. 
5. Rent or borrow camping gear
If you're new to camping or don't have all the necessary gear, consider renting or borrowing equipment instead of buying everything. Camping gear can be expensive, and renting allows you to try out different equipment before making a big investment. You can also ask friends or family if they have any gear they're willing to lend you.
6. Plan activities that are free or low-cost
Part of the camping experience is enjoying outdoor activities. Look for hiking trails, swimming holes, or fishing spots near your campsite that are free or have minimal fees. Nature provides endless opportunities for exploration and entertainment without spending a fortune.
If you're looking to spend time at your campsite, consider bringing outdoor activities like frisbee, corn hole, or other fun games. 
7. Pack smart and bring essentials
Make a checklist of essential camping items to avoid last-minute purchases at the campground store, where prices are often inflated. Remember to pack items like a tent, sleeping bags, cooking utensils, and toiletries. By being prepared, you'll save money and ensure a comfortable camping experience. Consider grabbing our Adventure Workbook where we include packing and shopping check lists. 
8. Consider alternative camping options
If traditional camping doesn't fit your budget, explore alternative options such as backpacking or car camping. Backpacking allows you to explore remote areas and camp for free in designated backcountry sites. Car camping involves sleeping in your vehicle or setting up a tent in free or low-cost camping areas. Both of which will require more planning as you'll have less room to bring comfort items. But you're there for the outdoors, right?
Are You Ready To Adventure?
Camping on a budget is entirely possible with a little planning and creativity. By choosing affordable destinations, camping during the off-peak season, sharing costs with others, bringing your own food, renting gear, enjoying free activities, packing smart, and considering alternative camping options, you can have an incredible outdoor adventure without breaking the bank. So, grab your camping gear, embrace nature, and embark on an affordable camping trip that will create lasting memories.
Don't forget to grab some of our specialty grade, roast to order coffee to fuel your next campout! We donate 10% of profits to homeless pets, ensuring every pet has their chance at finding their adventure partners. 
Leave a comment