Grizzee Donates - Our First Donation To Feed Homeless Pets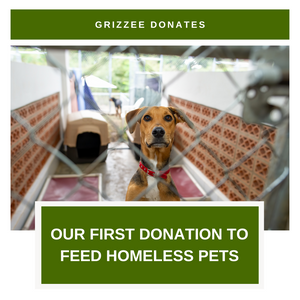 Grizzee re-launched its operations in October of 2022, moving from our outdoor dog bandanas to a coffee company! You can learn more about this transition in our "about us" page.
It was important to us that moving forward we dedicate to helping and giving back. That's where we decided to commit 10% of profits to homeless pets, doing our part in helping all pets have their chance at finding their fur-ever adventure partners. It's certainly a starting point, and is a number we wish to grow on as we do. 
Our First Donation - All Breed Rescue & Training, Colorado Springs.
We are proud to have just made our first donation of 200 meals provided to a great local dog rescue group in Colorado Springs. All Breed Rescue & Training does not only have a focus on its rescue efforts, but rehabilitating and training dogs that are otherwise facing euthanasia. 
This stood out to us. Working in animal rescue is difficult enough. But taking the time and resources to rehabilitate and train dogs that are facing euthanasia is providing them the ultimate last chance. All Breed Rescue works on learning their behavioral and health issues, and understanding the needs of every dog they take in. 
They utilize positive reinforcement and relationship based training to help get them to an adoptable stage. Upon adoption, the work they put into these dogs does not stop there. They are careful to place these dogs with the right home. All Breed Rescue requires the new owner to take a Pet Awareness Workshop and get one free training session to acclimate them, and offer ongoing support.
In conclusion, we are impressed to see the work this rescue group has put in to these dogs. Providing them the ultimate opportunity to live a happy, fulfilling, and loving life. We thank them for the work they do and are excited to have supported them with our commitment to give back. Together, we can all work to give all dogs their chance at a loving home. A special thanks to all who helped us reach our first donation!
By buying your coffee from us, you're also helping to feed more homeless dogs! Take a peak at our specialty grade, roast to order coffee roasts!
Leave a comment