Top Rated Camping Dog Gear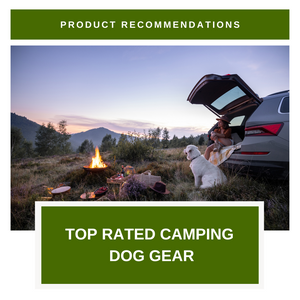 Camping gets pets and people outdoors, and sometimes in some rather rugged terrain or harsh elements. We know the importance of quality gear for our own uses, but what about our pets? Today we'll share some must-have top rated camping gear for your dogs ranging from harnesses - to portable tools. This is a guide to help get you properly equipped for your next back country trip!
You may already have your pup equipped with some of theses items for your day to day living. But we'd advise you look into gear thats built specifically to sustain the elements you'll be exposing your dogs too. Outdoor adventures put your gear through more wear and tear and you want to be prepared. 
Collars and Leashes
Wolfgang and Wilderdog have proven to build quality collars and leashes for the avid outdoorsmen. Personally my dog has worn his Wolfgang collar for several years now and its still in great condition after all our adventures. They offer a variety of outdoor themed designs, so you're sure to find one you like. Their products have been pull tested, UV/fade and fray resistant, and a 3 year warranty covering manufacture and material defects.
Wilderdog offers collars and leashes made of rock climbing rope, so they're certainly durable! They have many woven color options to chose from. Additionally, they have their PVC coated polyester webbing products that are also built to stand the test of the outdoors. The best part of all - a dogs lifetime guarantee on their products!
Harnesses
Ruffwear takes the cake on many of the camping gear sections, but right now we'll cover their harnesses. Their harnesses are built for multi purpose use, and heavily trail tested. You'll find they have several options in their harnesses, each offering several adjustment points, padding, handles, and even two leash clips locations. Their performance gear is trusted by professionals around the world!
Life Jackets and Coats
Outward Hound has a few options of life jackets for dogs, at an attractive price. They offer a variety of color options, easy retrieval handles, and adjustment points for a comfortable fit. They have a focus on outdoor products to sustain the elements. 
Ruffwear hits the list again, and they do have a quality float coat available as well if you're able to increase your budget. As for their coat options, you'll find they have an extensive selection of coats/vests to keep your dogs warm in winter weather. They've got many shapes and sizes, sleeves or sleeveless, waterproof or lighter fleece, and much more. They win in this category for the quality and overall selection offered. 
Dog Backpacks
Wilderdog makes another appearance in this section as they offer beautifully crafted backpacks for dogs. Built to be multi-functional with poop bag dispenser, top handle, 4 adjustment points with built in harness, and 2 saddlebags with 4 total pockets. They offer 4 outdoor themed color sets that are eye catching!
Ruffwear also has a great selection in this area, with several offerings to fit your pack needs. They have larger load options with more space for carrying, or lighter weight options. This also means plenty of color options among the listed backpacks! 
Outward Hound has a couple backpack options as well, and are again more budget friendly. They too have a selection for larger or smaller loads to carry, however, not as large a selection as Ruffwear offers. 
Dog Bowls and Beds
All the companies listed above have their own offerings of outdoor dog bowls, ranging in pricing, design, and durability. Ruffwear's beginning's where founded by making an outdoor dog bowl. However, the other companies may have more budget friendly offerings. It may be an item to throw in with your order for your other gear based on which company suites your needs best.
All these companies have some offerings of bedding as well. Outward Hound has better indoor bed options, Wilderdog currently offers a dog blanket and sleeping bag, leaving Ruffwear and Wolfgang with some of the better options for outdoors.  
Carry Packs
This is an important one for those getting outdoors or hiking with dogs who may not be able to travel the distance. K9sportsack builds a variety of carrying sacks for carrying your pets, from small to large dogs. You'll find they have different styles, colors, and features for all. Because this is what they specialize in, you'll find the utmost quality in their outdoor performance carrying packs!
We hope this list helps you in equipping your dogs for your next venture. There are plenty of other products we may not have listed in here today, but that can be found in many of these companies catalogues like dog booties, socks, treat pouches, and more.
Don't forget your fuel for your next journey by grabbing some of our specialty grade, roasted to order coffee! Enjoy your travels 🐾 🏔 ☕️ 
Leave a comment