Top 5 highest rated espresso machines on Amazon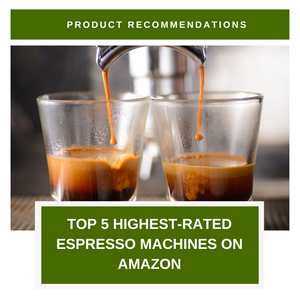 What are the top 5 highest rated espresso machines on Amazon?
When it comes to making the perfect cup of espresso at home, having the right machine is essential. With so many options available on Amazon, it can be overwhelming to choose the best one. To help you out, we have compiled a list of the top 5 highest rated espresso machines on Amazon based on customer reviews and ratings.
1. Breville BES870XL Barista Express Espresso Machine
The Breville BES870XL Barista Express Espresso Machine is a favorite among coffee enthusiasts. It features a built-in conical burr grinder, allowing you to grind fresh coffee beans for each cup. With its precise temperature control and adjustable grind size, you can customize your espresso to perfection. The machine also has a steam wand for frothing milk, making it ideal for cappuccinos and lattes.
2. 
De'Longhi Stilosa 
EC260BK 
Espresso Machine, Latte & Cappuccino Maker, 15 Bar Pump Pressure + Milk Frother Steam Wand 
If you're looking for an affordable yet reliable espresso machine, the De'Longhi EC260BK is a great choice. It has a 15-bar pump pressure system, ensuring rich and flavorful espresso every time. The machine also has a swivel jet frother for creamy cappuccinos and lattes. Its compact size makes it perfect for small kitchens or limited counter space while also not breaking the bank. Perfect for beginners!
3. 
Nespresso VertuoPlus Deluxe Coffee and Espresso Machine
For those who prefer the convenience of pod-based espresso machines, the Nespresso VertuoPlus is a top pick. It uses Nespresso's unique Centrifusion technology to extract the perfect cup of coffee or espresso. With its barcode recognition system, the machine automatically adjusts the brewing parameters for each blend. The VertuoPlus also has a large water tank and a used capsule container for easy cleanup.
4. 
Gaggia RI9380/46 Classic Evo Pro

The Gaggia Classic Evo Pro Espresso Machine is a professional-grade machine that delivers exceptional espresso. It features a commercial-style 58mm portafilter and a powerful 15-bar pump. The machine has a three-way solenoid valve, which releases pressure after extraction, resulting in a dry puck for easy cleanup. With its durable stainless steel construction, the Gaggia Classic Evo Pro is built to last.
5. 
Gevi 20 Bar Fast Heating Commercial Automatic Espresso Coffee Maker with Foaming Milk Frother Wand 
If you're looking for a high-end espresso machine with the features you need, the Gevi Automatic Espresso Maker is worth considering. This machine offers a 20 bar high pressure pump system and a Thermoblock fast heating system . The machine also has a milk frother for creating creamy lattes and cappuccinos. With its sleek design and intuitive interface, the Gevi Espresso Maker is a stylish addition to any kitchen.
Whether you're a coffee aficionado or just starting your espresso journey, these top-rated machines on Amazon are sure to satisfy your caffeine cravings. Invest in one of these espresso machines and enjoy barista-quality coffee in the comfort of your own home.
Be sure to check out our specialty grade coffee selection, and our popular Forest Fetching Espresso roast. 
Leave a comment