The Best Portable Coffee Makers for Camping in 2023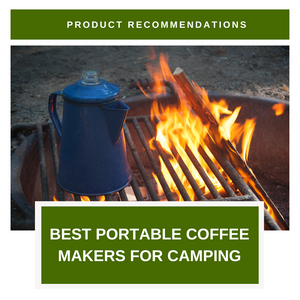 Coffee has become a large part of our everyday lives, inclusive of our camping and outdoor adventures. Today we will walk through the best portable coffee makers for camping, earning their titles through countless positive reviews and uses. Enjoying the benefits of quality coffee while out on your adventures does not need to be difficult, and there are a variety of brewing options available in todays marketplace. 
When considering the best portable coffee maker for your trip, there are a few elements to be aware of. How compact do you need your brewing machine, whats the ease of use, how does the coffee flavor turn out, and cost of the product. We have picked a selection of tools and brewers that are easiest to use, so you can spend less time on brewing and more time on enjoying. 
 The AeroPress Original Coffee & Espresso Maker has over 17,000 reviews on its Amazon listing with 95% of those being 4 -5 stars. Its listed as the best overall coffee maker for your camping trips. You are able to brew 1-3 cups of coffee at a time with this system. It offers no bitterness, and low acidity in its rapid, total immersion brewing process. 
It can make coffee in about 1 minute, with the ability to make cold brew and espresso coffees. This well rounded tool wont break the bank and costs just $40 on Amazon (at time of blog). 
Voted as the best camping coffee pot with a french press system this is a great
addition to your next trip. Although it only brews for 1 cup at a time, it doubles as a coffee mug creating a simple solution to your brew process. Pair that with the fact its durable and lightweight - this convenient coffee maker earned its spot on this list. Its listed as a multi-functional tool as well, with capability of being heated on a butane stove for other substances such as foods. With a cost on Amazon for $25 it's within competitive limits for comparable products.
This percolator is another highly sought after option for the outdoor enthusiast. 
With over 26,000 reviews, 90% of those rating 4-5 stars there is a lot of good to say for this coffee maker. It fits up to 12 cups of coffee, beating our two previous selection if brewing for a larger group. It's durable, convenient, and offers a no mess permanent built in filter basket. It features a clear glass knob to inform you when percolating has begun. Built with stainless steel ensures durability sought after for your camping essentials. At a cost of $44 it's a very reasonable price for all its qualities.
If you're seeking an espresso specific coffee maker we've included this option just
for you. This stovetop manual coffee percolator comes in 3, 6, and 9 cup sizes offering you the best fit for your camping rituals. If you're looking to bring your lattes and cappuccinos outdoors this product will help ensure an easy process. At just $24-31 in cost (depending on chosen size) its an inexpensive espresso coffee maker for your travel needs. 
We hope you found some new additions to your coffee brewing tools in this list. We believe every great adventure consists of great coffee, outdoors, and (if you've got them) dogs! If you're seeking great coffee roasts to brew in your new coffee makers, be sure to take a peak at our roasts under our products page. We roast specialty grade coffee beans to order and deliver to your doorstep. 
Enjoy your adventures!
**Grizzee may earn a commission on products purchased through our links. This does not deter or alter our vetting process of product recommendations we provide. 
Leave a comment