Multi Brand Giveaway - Win Over $1,000 In Pet Adventure Gear!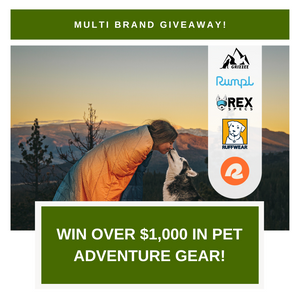 From your front door to the backcountry, in the epic and in the everyday, there's no telling what adventure you can unleash next with the right gear, a little bit of eagerness and your dog by your side.
To celebrate the endless possibilities, we're partnering with some of our favorite pet adventure brands (Ruffwear, Rex Specs, Rumple, and Retro Spec) to bring you a prize pack full of goodies to help you plan your next experience. From coffee that gets you moving to gear that makes playing in the dirt (and water) extra memorable, you won't want to miss this giveaway valued at over $1,000!
Prize Pack (over $1000 in value) 
Ruffwear: Front Range® Dog Harness, Float Coat™ Dog Life Jacket, Grip Trex™ Dog Boots, Stash Bag™ Plus and a Treat Trader™
Rumpl: Puffy Blanket (for a beach day picnic!)
Grizzee: 3 bags of coffee
Retrospec: Weekender 10' Inflatable Stand Up Paddle Board
Rex Specs: 1 pair of dog goggles
Steps to Enter: Find our latest Instagram post about this giveaway. Follow each brand on Instagram, tag your adventure buddy (human or dog) and enter via link in our IG bio!
Giveaway is open to US residents only. No purchase necessary. Giveaway is in no way endorsed or sponsored by Instagram. Must be 18 or older to enter. Giveaway closes 10/19/23 at 11:59pm PST.
Leave a comment